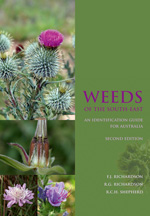 A comprehensive identification guide for weeds in the south-east region of Australia. This second edition has been fully updated and reorganised to recognise recent taxonomic changes and includes many new species and photographs, an expanded illustrated glossary and a completely new section using flower colour and shape as an aid to plant identification:

• over 2500 plant species including weeds of agriculture, bushland, waterways, gardens, roadsides, wasteland and amenity areas, and many new and emerging problem species,

• illustrated with more than 2000 photographs including spectacular close-up shots,

• key features are described with relevant measurements for easier identification,

• comparisons are made to similar species and easily confused natives,

• situations where the species are likely to be found, and

• occurrence by state using the latest herbaria records.

Written in easy-to-understand language and beautifully illustrated, this is a field guide for anyone interested in the identification of pest plants and the preservation of our native flora. An essential tool for community and government organisations, park rangers, weed officers and advisers, agronomists, landholders, horticulturists, landscapers, amateur naturalists and gardeners. 

Supported by the Weed Society of Victoria, the Weed Society of New South Wales, the Weed Management Society of South Australia and the Council of Australasian Weed Societies.
Price includes GST, postage and handling within Australia.