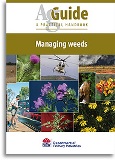 This book is for people interested in managing weeds in the landscape, either for the protection of our natural resources and biodiversity, or for the protection of agricultural production and productivity. A practical guide to help you design successful weed management programs.
Table of contents: 
Are weeds a serious problem?
Defining your weed problem
Understanding your weeds
Managing your weed problem
Non-chemical weed control methods
Chemical weed control
Making an action plan
Published in 2013, the AgGuide Managing weeds is 105 full-colour A4 pages.

Price includes GST, postage and handling within Australia.