Below is a list of the most frequently asked questions of small and hobby farmer's who want to start farming olives.

What are the best varieties?
This is just about the hardest question of the lot. There are literally hundreds of different species of olive tree out there ... or more precisely, hundreds of varieties of Oliva europa, the European Olive.

However, some information can be given based on what you wish to do with the fruit. Certain species are better for pickling, others for oil. There are plenty of proven varieties available, originally from Spain, Italy, Greece and other Mediterranean countries as well as USA, South America and Australia.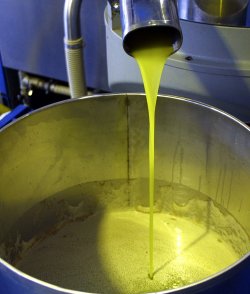 What growing conditions are best?
The olive tree is originally from the Mediterranean area and seems best suited to a Mediterranean climate, i.e. dry summers, wet winters. As a general rule The Hunter has dry winters and wet, all year round rainfall with humid summers, particularly near the coast, and therefore is not textbook perfect for the traditional climate for growing olives.
However, the climatic limitations are not serious and can be overcome with care and attention. As long as you do not have winter frosts below -8°C and have irrigation water available, you should be able to grow olives successfully in the Hunter Valley and possibly better than some Mediterranean countries. The trees do need a period of dormancy brought on by cold conditions (daily average below 12°C ) to trigger flowering. The trees do not like extreme cold and will die below -8°C and the requirement for a good watering during winter can be overcome with an effective irrigation system.
What soil type is best?
Olives like a well-drained soil, so the medium to heavy clay which is found around many parts of the Hunter is not ideal. With a program of soil improvement most of the soil types in the Valley can be improved enough to make growing successful. We would strongly recommend having a comprehensive soil test done by a qualified soil specialist before considering planting.
This soil test could be the best $150 you ever spend. The area to be planted should also be tested for its ability to drain.
Should I plant oil or table (pickling) olives?
There is a decent demand for pickling olives and indeed this is something that anybody can do at home. So, if you are planting half a dozen trees, it is probably best to look at pickling and if you plan to plant 10,000, you should at least consider oil.
Oil olives sell for around $1 a kilo (depending on oil content). Pickling olives sell for up to $3 a kilo (if they are in perfect condition and you can find a buyer).
Should I plant green or black olives?
Everybody's favourite question! All olives start off green and turn black as they ripen. Unlike grapes which have white and black varieties, an olive tree can give you both green and black olives, as well as many shades in between.
Unripe, green olives have less oil but have a stronger, more pungent flavour. Ripe black olives have more oil but can lack "bite".
Harvest time determines the colour of the olive and the taste of the oil, usually April / May / June in most areas.
How many trees do I need?
A mature olive tree at about 10 years of age should stand around 3 to 4 meters high and give a yield of around 40kg per year. The tree should bear for at least 100 years, but many areas of the world experience "alternate bearing" years with a good crop one year and a poor crop the next.
Planted at a spacing of around 5m x 8m, a hectare (2.2 acres) would support 250 trees, which should give you 10,000kg (ten tonnes!) of olives a year. At $1 per kilo, that is an income of $10,000 a year, but that will involve quite a bit of work and time. The spacing at 5 x 8 is traditional, but may not be ideal for all applications. There are some very effective groves planted at 5 x 5, and the new theory of over-the-row straddle harvesting seems to work well with 3 x 7m spacings.
How much will it cost?
To prepare a block of land to plant 250 trees, as above:
Drainage test - you can do it yourself digging holes or a backhoe/posthole digger
Soil test - worth doing a couple, allow $300 to $500
Soil improvement - lime, gypsum, ripping using a contractor, discing, etc .... allow $1000
Trees - from a wholesale nursery, about $7 each for young trees x 250 .... around $3500
Planting costs - including stakes, protection from hares and roos, fertiliser, etc (but not labour) ... around $1000
Irrigation - pump, filters, pipes, drippers, risers or sprays .... around $4000 

All up, allow $10,000 per hectare to be on the safe side ($40 per tree is what I usually quote), assuming you will do much of the work yourself. Don't forget, somebody has to cut the grass, pull out the weeds, spray the bugs, tie the trees back up after the storms and prune them into shape.
And remember, you will not get a crop until the tree is at least 5 years old and they will not bear fruit fully until they are 10 years old.
How much work is involved?
Plenty! Initially, soil preparation could take 12 months, as many of the Hunter soils are clay-based and need to be improved before planting. The usual problems are acidity (add lime) and high salt levels (add gypsum). Some areas also have high Magnesium, Aluminium, Manganese and other imbalances. In addition, much of the area has low organic material levels so a cover crop (such as lupins, oats, rye, etc) to be grown and ploughed in should be considered. One very effective technique has been to plant the trees on raised mounds to aid drainage away from the roots.
All this should be done before planting as it is so much easier when there are no trees in the way! Once planted the trees need to be protected against attack from rabbits, hares and kangaroos. The frequent storms and strong winds in the area mean the trees need to be firmly staked, and regularly checked to ensure the stakes are still doing their job. It is general practice to train the trees to a desired shape for harvesting, so allow 15 minutes a tree to shape them. 15 minutes doesn't sound much, but 250 trees means over 60 hours!
Regular irrigation and fertilisation should ensure good growth, with more pruning and shaping. Keeping the weeds under control is especially important in the early years when the root area is small and the tree is competing with the weeds for nutrient.

Pests need to be kept under control. These range from birds eating the fruit, through a variety of insect and scale pests, through to fungal problems. These are all fairly well understood, and a range of chemical sprays (some organic) are available.
Picking - by hand or machine, whose hands or whose machine? 
To strip 15kg of fruit from a 5 year old tree by hand, just picking onto a tarpaulin on the ground, took around 30 minutes per person per tree. That is about 15 trees a day, 250 trees in around 17 days, but you also tend to get bored after a while. 
All sorts of harvesting devices are available and new ones appear every month. Full mechanical harvesting using butt shakers is envisaged for trees older than 8 years.
Where do I get more information?
Nurseries often supply information for free or consultants will assist with more information but they will charge a fee.
This information has been adapted from the Hunter Valley Olive Association.