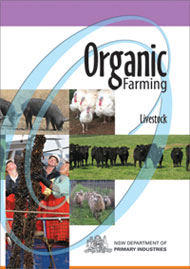 The third book in the organic farming series shows how to produce livestock using organic faming methods, with particular emphasis on sheep and wool.  Published in 2000, this book is 90 A4 pages (black and white). 
Table of contents:
Organic livestock

Animal welfare

Parasite problems for ruminants - sheep, cattle, goats and deer:

Internal parasites

Developing a worm resistant mob

The importance of nutrition

Dung beetles and other allies

The importance of planning

Some myths of 'clean' grazing

Quarantine paddocks 

Buying in and selecting stock 

Monitoring your stock 

Sheep:

Sheep resistance to worms

Barbers Pole worms

Liver fluke

Flystrike

Body lice

Footrot

Monitoring parasite seed in sheep dung

Managing the animals you want to test for genetic purposes

Farming compost worms

Compost worm beds

Feeding

Reproduction

How many compost worms?

Diseases and pests

Maintenance of beds

Harvesting

What the farmers say

10 case studies: vealers, beef, deer, prime lamb, broadacre mised farming, pigs, dairy and yoghurt, poultry - meat and eggs, worms.

Useful contacts.
Free postage within Australia