Farmers can overcome the frustrating job of loosening a nut or bolt in a tight spot with a range of specialist hand tools.

Sometimes it seems manufacturers fail to consider service access when designing machinery. Difficult-to-access areas are often too tight to fit a hand, let alone a spanner as well.

Specialist hand tools may seem expensive but they can prove invaluable of a wide range of servicing tasks. In some cases, manufacturers may even supply specialist service tools for their particular machinery.

This article gives farmers an outline of useful tools and is not an endorsement for any particular tool or product.



1. One of the cheapest and most useful accessories for any toolbox is a selection of socket extensions. They can be bought separately from socket sets and joined together to form long extensions to reach into impossible places to loosen troublesome bolts. Shown in this picture are 1/4, 3/8 and 1/2inch drive extensions. A set of 3/8 sockets will work the best in tight spots as they are smaller than 1/2 inch equipment, yet can still withstand a fair amount of strain without snapping.



2. Universal joints are essential when there is an obstruction preventing access to a nut or bolt. But avoid using them when undoing extremely tight bolts as they can break.



3. Another option is a wobble bar. Apart from being stronger than universal joints, they can get into even more obstructed places.



4. An alternative to using universal joints and wobble bars in tight spots is a 'stubby' ratchet, which often has a swivelling handle such as the one pictured.



5. Crow's foot spanners are open-ended and fitted to socket drives. They can be combined with a range of socket drive accessories to increase their versatility.



6. Crow's foot spanners are used for jobs where access to a nut or bolt is limited such as tightening head studs on an engine without having to remove rocker gear or overhead camshafts.



7. Tube sockets are ideal for tightening or loosening nuts when a large amount of thread is exposed.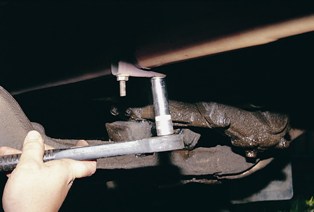 8. Normal sockets will accommodate only a short amount of exposed thread before they are unable to grip the nut. Tube sockets are also handy in situations where a small extension is needed.



9. Cap screw sockets have an Allen-key head and are used mainly for tightening and loosening head studs in engines. They allow a torque wrench to be used for precision tightening.



10. Offset screwdrivers and screwdriver socket attachments are handy for screws with limited access. Although they allow more leverage on a screw than a traditional screwdriver, it is difficult to maintain downward pressure, which is essential to stop slippage and damage to the screw head



11. Stubby combination spanners are ideal for working in confined spaces.



12. It is often better to attempt to loosen tight bolts with a longer spanner first, even if only a fraction of a turn is possible. Due to the short length of the stubby spanners, they have a force disadvantage but will make the removal of a bolt quicker as they allow a higher degree of movement in tight places.



13. Tube spanners will get a better grip on a bolt than an open-end spanner. The handle can be swivelled after the bolt is loosened to hasten its removal.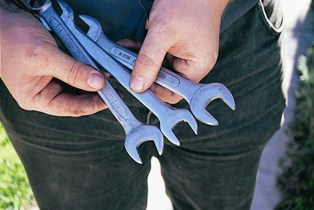 14. Good quality open-end spanners will have slimmer heads such as the one in the centre. Poor quality spanners have larger heads to make up for a lack of material strength. Slimmer heads such as the middle spanner will allow slightly more rotation of the bolt when working in access-limited areas



15. The size of the step or offset of a ring spanner can make a difference in tricky jobs.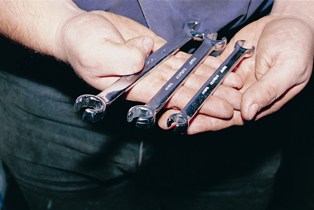 16. Flare nut spanners are essential to prevent damage when removing or tightening flare nuts on brake and fuel lines. Shallower offsets also allow greater force to be applied without the spanner slipping off.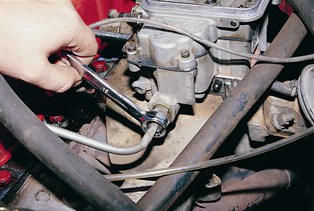 17. Flare nut spanners act like a ring spanner with a cut-away section allowing the spanner to be placed over the pipe. They are superior to open-end spanners, the only other tool that can be used for the job, as they prevent the spanner from 'rounding' the flare nut.



18. Ratchet ring and combination spanners are convenient for most jobs as they combine spanner and socket characteristics in one tool. They are handy when there is insufficient room above a bolt to use a socket and ratchet and sideways movement is limited.



19. The ratchets have fine increments allowing fractional turns in limited spaces, which would become tiresome if using an open-end or ring spanner. A set is expensive. Cheaper box-style ratchet ring spanners are bulky and not worth owning as they are not useful in tight spaces.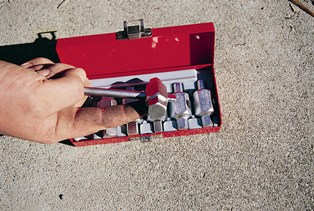 20. A set of hex and square-head drain plug spanners is invaluable for removing plugs in engines, gearboxes and transmissions.



21. When all else fails, nuts can be removed using a nut-splitter. This device forces a hardened steel wedge into the nut as a bolt head on the handle is tightened. With a little practice, nuts can be split without damaging the thread underneath. Often they will not need to be split through completely before the nut is loose enough for removal.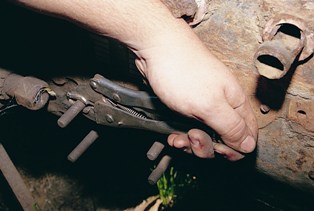 22. One of the best ways to remove studs is to tighten a pair of locknuts onto the thread and use an appropriate spanner. A good quality pair of vice-grips can sometimes work as shown



23. A better option is to use a stud remover. This device is ideal as it grips the stud harder as more force is applied and only slightly damages the stud. Do not use it on threaded sections.