Undoubtedly you've heard about new quad bike rollover protection regulations which have come in. Agriculture and forestry use quad bikes, sometimes called an ATV, as they are a useful tool for many farming jobs.
Quad bikes are designed for an operator who straddles the bike. There are 3 categories of quad bikes:
general use (commonly marketed as utility, work or agricultural models)
youth models (also marketed as fun models) and transition models
sports models
With changes ahead, it is important to understand how the regulations will affect quad bikes on your farm in the short and long term.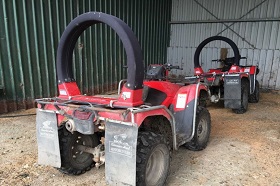 A bit of history behind why these regulations were put in place.
According to Product Safety Australia, there have been 150 fatalities since 2011 from quad bike related incidents, 23 of whom were children. In 2020, 24 people, the highest in a decade, died in quad bike related accidents.
In addition to this, it's estimated six people per day present to the emergency department from injuries sustained on quads, 2 of which are admitted with serious injuries. That's thousands of injuries a year affecting people's ability to work and live a normal life.
But it won't happen to you….or will it?
Quad bike rollovers happen, even when being operated 'carefully'. The Safety Standard is designed to minimise the risk of death and serious injury as far as practicable. Its purpose is to allow the existing fleet of quad bikes to gradually upgrade to meet the safety standard over time.
When it comes to farm safety, we need to be doing all we can to keep ourselves, our family, our children, our workers and our friends protected from harm.
There have been comments from some manufacturers saying they are going to exit the Australian quad bike market because of the new regulations. An article published by ACCC discusses some of the manufacturers concerns, including their claims that "rider behaviour is the major reason for the number of deaths and injuries".
Let's be clear. These regulations are designed to improve rider safety by improving design.
If manufacturers do withdraw, it will be disappointing not to have some great bikes available in Australia, but also bikes that are useful around the farm. But safety of the rider has to be a priority.
Something to keep in mind when looking at Quad Bikes. Do you have access to Machinery maintenance records? It is essential to keep a record of all servicing or maintenance. Remember it is a legal requirement for you to retain your machinery service records.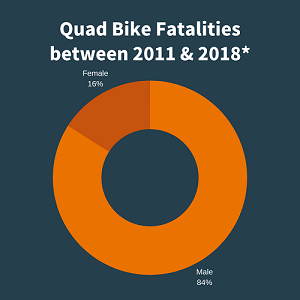 Quad Bike fatalities*Over three-quarters of the quad bike fatalities between 2011 and 2018 were males
according to Safe Work Australia.
What's the new standard all about?
The Consumer Goods (Quad Bikes) Safety Standard 2019 came in to effect 11 October 2019 and has a staged implementation of requirements over 2 years.
From 11 October 2020, all new and imported second-hand quad bikes are required to:
meet the specified requirements of the US standard for quad bikes, ANSI/SVIA 1-2017, or the European standard for quad bikes, EN 15997:2011
have a rollover warning label affixed so that when the quad bike is used, it will be clearly visible and legible
provide information in the owner's manual or information handbook on the risk of rollover
be tested for lateral static stability, and display the angle at which the quad bike tips on to two wheels on a hang tag at the point of sale
have a spark arrestor that conforms to the Australian Standard AS 1019-2000 or the US Standard 5100-1d
What this means for you is if you are buying a new or second hand imported quad bike on or after 11 October 2020, the quad bike must comply with the above.
UPDATE: With a recent last minute exemption signed by Assistant Treasurer Michael Sukkar on 23 June 2021, it seems dealers may be able to continue selling quad bikes without Operator Protection Devices (OPDs), if they ordered them before 1 July. This exemption has created a bit of confusion around the place. It seems the intent of the exemption is to allow quad bikes to be imported under the previous standard if they were ordered before 1 July.
Irrespective of the exemption, in the near future the rules will require that all new quads will have OPDs fitted. 
What to look for when buying a quad bike
A permanent rollover warning label which is clearly visible when the quad bike is in use
Owner manuals and instructions must contain information about the risk of rollovers, when the risk is increased and how best to operate the quad bike safely in higher risk conditions
A yellow hang tag with Stability Test Results listed - this allows you to compare the stability of different models within quad bike categories. The number is the minimum angle that the quad bike tipped sideways on to 2 wheels. The higher the number, the more stable the quad bike is.2 quad bikes Permission ABC Rural
Two quad bikes fitted with rollover protection devices. Image Credit: ABC Rural, Margot Kelly (Third quad bike manufacturer pulls out of Australian market due to government regulations).
What's changed in October 2021
General use quad bikes will be required to meet minimum stability requirements for lateral roll stability (tipping sideways on two wheels), as well as front and rear end longitudinal pitch stability (tipping forward or backwards on two wheels).
All general use quad bikes must be fitted with an operator protection device (OPD) or have one integrated in to its design. The purpose of an OPD is to protect the rider from the risk of death or serious injury as a result of being crushed or pinned in the event of a rollover. The OPD will hold the bike off the ground.
Sometimes called a roll bar or Crush Protection Device, a quad bike must have one of the following devices fitted or integrated in to its design:
an ATV lifeguard
a Quadbar
a device of a type that offer the same, or better, level of protection for operators from the risk of serious injury or death as a result of being crushed or pinned in the event of a rollover
What should you do now?
If you are looking to buy a quad bike, new or second hand, make sure it meets the new requirements of the Standard, and is fitted with an OPD. Perhaps a side-by-side vehicle may be an alternative, but again these must be used with care like a quad bike.
If you have one or more quad bikes already, look in to retrofitting an OPD on each and every quad bike now. Some jurisdictions offer rebates to improve the safety of quad bikes. Contact your state work health and safety authority for more information.

Acknowledgment
This article is courtesy of Safe Ag Systems.